Constantino Paul Castellano, better known as Paul Castellano (or PC to his family), was a mafia boss in New York. He succeeded
Carlo Gambino
as head of
the Gambino crime family
, then one of New York's largest Mafia families. In early 1985, he was one of many Mafia bosses arrested on charges of racketeering, which was to result in the Mafia Commission Trial; in December of that year, while out on bail, Castellano and an associate were shot to death outside Sparks Steak House in Manhattan on the orders of
John Gotti
.
Early life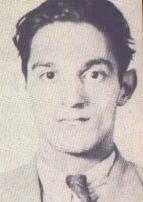 A young Castellano
He was born in Brooklyn in 1915, to Giuseppe Castellano and Concetta (maiden name Casatu) and logged his first arrest for armed robbery in 1934. The 19-year-old Castellano refused to identify his two accomplices to the police and served a three-month prison sentence on his own, his refusal to co-operate with the authorities giving him a good reputation as a 'stand up guy'. Castellano and often signed his name as C. Paul Castellano because he hated his first name, Constantino. Eventually he became known as Paul.
In a show of his true ruthlessness Castellano called for the assassination of his daughter's boyfriend, Vito Borelli, in 1975 when Castellano heard he likened his appearance to that of chicken magnate Frank Perdue, which was highly uncomplimentary due to Perdue's balding and elderly appearance (which some likened to a chicken), as well as his comic and dorkish manneurisms in his commercials. Ironically, Perdue would call on Castellano for assistance with union issues at one of his restaurants, a decision Perdue later said that he regretted. He also allegedly murdered his own son-in-law, Frank Amato, who was a young thug who married his attractive daughter, Connie Castellano, and then took to beating her up. In 1980 Amato disappeared and was never seen again.
Rise in the Gambino family

Castellano became boss after Carlo Gambino's death in 1976. While many people wanted the position as boss, it is suspected that Gambino appointed Castellano as his successor because Gambino was married to Castellano's sister and Gambino was a man who believed that family should come first. But Gambino decided at the same time to retain
Aniello Dellacroce
as his underboss, to prevent a street war.
It is said that Castellano tried to run the organization like a company, and his connections expanded to places as far away as Kuwait. As part of an effort to lead a more open life-style, he purchased a large mansion in the prominent Todt Hill neighborhood of Staten Island. From these changes, some of his captains apparently began to lose respect for his leadership, believing that Castellano had lost touch with the essence of the organization. Dellacroce, however, supposedly wouldn't approve of an attempt on his life, and thus they could not try to harm him.
Later years and assassination

In the early 1980s, Castellano became worried about the ambitions of the ruthless
John Gotti
, and the pair seemed to be on a collision course. Castellano repeatedly made it clear that he would kill anyone who was dealing in narcotics—knowing that Gotti was doing just that—whilst Gotti began to turn mobsters against Castellano, which was not very difficult because many in the Gambino Family did not respect Castellano. They regarded their boss as being too distant. Castellano rarely left his mansion and, although he demanded tribute payments from them, he rarely bothered to mix with the foot-soldiers of the Family, as if they were beneath him.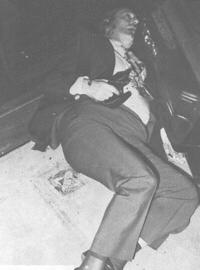 Castellano murder scene
In early 1985, he was one of many Mafia bosses arrested on charges of racketeering, which was to result in the Mafia Commission Trial. Castellano was released on $3,000,000 bail and rumours were floating about that the 70-year-old might try to cut a deal with the FBI and turn on his criminal associates in order to avoid prison. There were also rumours that he had undergone an operation to cure his impotence in order to help him carry on an affair with his young maid, rumours that Gotti happily spread.
On December 2, 1985, Dellacroce died of lung cancer. Castellano then made two major mistakes. First, he did not attend
Dellacroce's
funeral - which was viewed as highly disrespectful. Second, Castellano then named his bodyguard, Thomas Bilotti, as the new Underboss. Although Bilotti was a loyal mobster, he was also a brutish loanshark with little of the diplomatic skill required to hold such a high rank within the organization. Within two weeks of Dellacroce's death, on December 16, Castellano and Bilotti were shot to death outside Sparks Steak House in Manhattan on the orders of
John Gotti
. They had been lured there supposedly to a meeting with Gotti in order to iron out their differences.
Legacy

Controversy dogged Castellano even in death, as the Roman Catholic Archdiocese of New York refused to grant him the last rites of the church, citing the notorious circumstances surrounding both his life and death, leading many Italian-Americans (including New York State Governor Mario Cuomo) to accuse the predominantly Irish-American archdiocesan hierarchy of applying a prejudicial double standard (citing as an example the case of Brian O'Regan, an allegedly corrupt New York City police officer who, fearing impending arrest, committed suicide in a Long Island motel room the same year as Castellano's death; O'Regan did receive a Mass of Christian Burial despite the fact that a suicide note was found in the room and its authenticity was established beyond any doubt). Castellano was buried in the Moravian Cemetery, a non-sectarian cemetery located in the New Dorp section of Staten Island.
During his life, Castellano was able to set up his sons in successful businesses, making them become multimillionaires themselves, while not becoming Gambino wiseguys (although their companies certainly benefitted from the fact that their father commanded a network of 350+ made members and hundreds of more associates). One such business, Scara-Mix concrete, based in Staten Island, dominates the borough's concrete pouring industry. In 2006, during
John Gotti, Jr.'s
racketeering trial, former captain Michael DiLeonardo testified that he was the bagman for the family and collected thousands of dollars per year from the brothers Peter and Philip who operated Scara-Mix.
Gotti succeeded Castellano as head of the Gambino family, a fact that was confirmed by the testimony of
Sammy "The Bull" Gravano
, Gotti's Underboss, when he entered into a plea bargain with the government in 1990. Gotti was later convicted of ordering Castellano's murder, along with a host of other crimes.