Albert "Mad Hatter" Anastasia was the boss of the
Mangano family
(later known as the Gambino family) from 1951 until 1957. He was also one of the leaders of Murder Inc, a notorious group of assassins which murdered people all accross the country at the bidding of the commission. Anastasia was known as one of the most viscious and violent criminals ever.
Early life
Umberto Anastasio (later Americanized to Albert Anastasia) was born in Tropea, Italy, in 1902. In 1917 he and 2 of his brothers, Anthony and Giuseppe, sneeked on a ship and sailed accross the Ocean towards New York City. They settled down in Brooklyn and started to perform petty crimes to make a living. It didn't take long for them to come in contact with several criminals, including Brooklyn mobleader
Frankie Yale
. It was here that Anastasia first demonstrated his penchant for homicide, killing a fellow longshoreman in 1920. The murder led to an 18-month sentence which he served at
Sing Sing Prison
. However, he was released early, being granted a new trial which would eventualy never take place as 4 important witnesses turned up missing. In 1922 he was arrested for murder but charges were dropped due to lack of evidence. One year later he was arrested again and sentenced to 2 years in prison for carrying a conceiled weapon.
Formation of the Mangano family
By the mid 1920's Anastasia had become a partner of such men as
Joe Adonis
,
Anthony Carfano
,
Al Mineo
and
Willie Moretti
. His main focus became the Brooklyn waterfronts and gaining control of Union locals. In 1927 the 2 largest Mafia organizations in New York, the Manhattan based Morello family under
Giuseppe Masseria
and the Castellammarese family under
Salvatore Maranzano
, began to openly challenge eachother and in 1930 the
Castellammarese war
began to take it's form, leading several men to their deaths. Amongst them was Al Mineo, the Brooklyn waterfront leader and lieutenant of
Giuseppe Masseria
. In 1931 the war came to an end when Masseria was killed. Some believe the killer was John Guistra, a member of the Vincent Mangano crew and a force at the waterfront. Guistra became a suspect in the Masseria murder and was killed himself within weeks after Masseria's death. Therefore it is also believed that Vincent Mangano helped in the murder of Masseria, although
Lucky Luciano
, the man widely held responsible for orchestrating the killing, claimed a team of 4 other men gunned Masseria down. One of them being Albert Anastasia and the others
Vito Genovese
,
Joe Adonis
and
Bugsy Siegel
. After Masseria's murder
Salvatore Maranzano
, the opponent in the war against Masseria, claimed victory and reorganized the 5 New York Families. The Mineo family was at first assigned under the leadership of
Frank Scalise
, but he was soon demoted after Maranzano was killed 6 months later. The commission then chose Vincent Mangano as the official leader of the Mineo family, Anastasia then operated as an important capo within the newly formed Mangano family.
Murder Inc.
Next of having a leading role in one of America's most powerfull crime families, he also maintained a spot on the National Commission board, where all the leaders of the mafia would sit together to discuss general business. There he acted as a man in the middle between the commission and a murderous group dubbed Murder, Inc. The group was overseen by
Louis Buchalter
, a jewish labor racketeer, and close associate of Anastasia. Many hits ordered by the commission were performed by killers of Murder, Inc. from which it's members were mainly of Jewish descent. Anastasia's leading position in this group of assassins also led to his nickname "Lord high executioner".
Throughout the 1930's Anastasia was brought in connection with several murders, but wasn't jailed once. In 1939 however the Murder Inc. organization headed for it's decline when member
Abe Reles
was arrested for the murder of Peter Panto, a man who fought against labor racketeering. Reles was a cold blooded assassin with multiple murders on his name, but after facing the death penalty he snapped and decided to testify against his associates. By doing this he led several men to the electric chair, including his boss Louis Buchalter. After more than 10 years of nationwide killings, the Murder Inc organization now crumbled. Also Anastasia was being linked to the murderous crew and was forced to lay low for a while. Abe Reles was eventually killed in 1941 when he "fell" out of a window, most likely after being pushed.
Taking the lead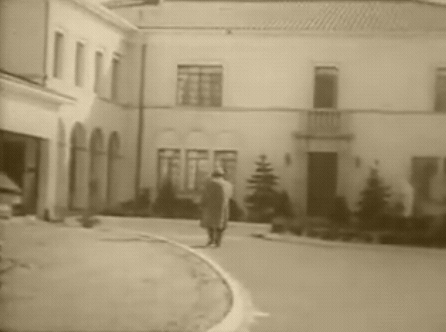 1951: Albert Anastasia at his house in New Jersey
Now with the end of Murder Inc in sight, newspapers brought Anastasia's name frequently in connection with it. In order to improve his image he enlisted in the US army and became a technical sergeant in 1941. This granted him the opportunity to become an American citizen 2 years later. About that same period he moved away from Brooklyn and settled down in New Jersey with his wife and child, Albert Jr, living in the same street as Joe Adonis. During the late 1940's however Anastasia was being linked again to several racketeering crimes and newspapers oftenly dubbed him as a drugsmuggler and racketeer. This however didn't stop Anastasia's ambitious move to the top.
In April 1951 Anastasia's boss Vincent Mangano dissapeared and his brother Phillip was found murdered. By this the Mangano leadership had vanished and left the spot right open for Anastasia, who is believed to have ordered the murder of his elder superiors. The period after the Mangano murders Anastasia hardly came out his house, possibly fearing revenge actions from Mangano loyalists. A newscrew tried to approach him during that time which is seen in this
video
. Not much later the commission, and especially Luciano boss
Frank Costello
, accepted him as the new head of the Mangano family.
Later that year his old friend
Willie Moretti
, who was the underboss of the
Luciano Family
, had become a treath to his Mafia associates after he started to babbel around about Mafia business at the Kefauver hearings. Some believe he wasn't in control of his mind anymore due to syphillis. Whatever was the case, his behaviour did lead to his murder in October 1951. Anastasia is also believed of having had a hand in Moretti's murder. With Moretti out of the way
Vito Genovese
took back his former position as Luciano underboss and would play a big role in Anastasia's future life.
Tax evasion
America rushed into the 1940's and law enforcements had tried to nail Anastasia for tax evasion in which his New Jersey mansion would prove costly. With the income he claimed to have he could not possibly have afforted a big house like that. On the witness stand was a plumber who testified that Anastasia had given him 1.000$ in cash as an advance which again showed he had a lot more money than he claimed. Another witness was his driver, Vincent Macri, who suddenly dissapeared in 1954 only to be found back murdered in the trunk of his car. That same year a mistrail was declared by the judge. During that same period they also tried to withdraw Anastasia's citizenship because he had lied about his background, but those charges were dropped again in 1956. However, in 1954 he was retraieled for tax evasion and he eventually pleaded guilty to the charges. In 1955 he was sentenced to one year in a Michigan federal penitentiary.
Death of the Lord High Executioner
In 1957 Anastasia's underboss Frank Scalise, a close friend of the exciled
Charles Luciano
, was murdered while walking through a fruits stand. His murder is believed to have been ordered by Anastasia himself, who had sentenced him to death because Scalise was believed to have sold Mangano Family membership to the highest bidder, leading to untrustworthy and uncapable members. After his death
Carlo Gambino
was appointed as the new underboss. Gambino was an ambitious man with close ties to Vito Genovese. For many years Genovese had been eager to remove Costello as boss of the Luciano Family. He waited several years but his patience eventually ran out, ordering Costello's murder in May 1957. As the gunman entered the appartment hall in Manhattan where Costello was seated, he fired a single shot at Costello but missed his target, leaving him behind with only minor injuries. Anastasia saw this as an attack to his alliance with Costello and made Genovese his enemy. However, he had allready lost the battle.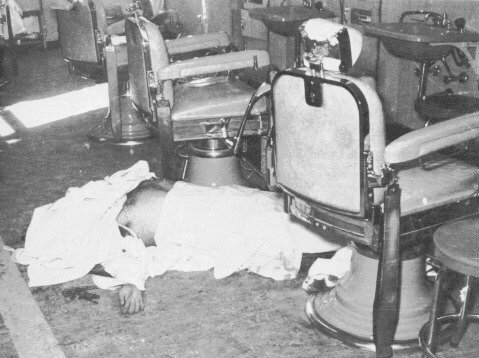 Anastasia murdered
Carlo Gambino had secretly sided with Genovese and other members of the commission, such as
Joseph Bonanno
and
Joseph Profaci
, to take care of the alliance between Costello and Anastasia. Gambino passed the order to murder Anastasia to capo
Joseph Biondo
who set up a team of Lower East Side heroin dealers to perform the hit. In the morning of the 25th of October, 1957, Anastasia visited a barber shop for a shave and haircut. While he was seated in the chair his driver and bodyguards slowly went away as 2 gunmen entered the shop. Unknowing what was going on, the men opened fire on Anastasia who fell to the ground and died moments later.
In the aftermath Carlo Gambino became his successor as Mangano boss with Joseph Biondo as the new underboss. Costello stepped down and Genovese also took the lead of the Luciano Family. One year later his mansion at Fort Lee was sold for $64.600 to an actor named Buddy Hackett. At the time of his death Anastasia was brought in connection with more than 60 murders, but as former head of Murder Inc, that rate could easily be tripled.
(Source: paperlessarchives.com, geocities.com, crime.about.com, foia.fbi.gov, "Anastasia's house sold to mortgagee" NYtimes August 26 1958, "Anastasia wins plea" NYtimes September 20 1955)